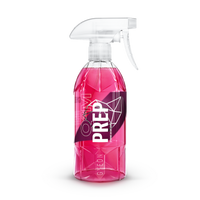 Q2M Prep is a highly effective pre-coating degreaser to ensure the absolute best in terms of application and performance out of your ceramic coating.
The final wipe down before you apply your ceramic coating is extremely important. You'll need a streak free finish that is clean and ready to accept the coating for the best possible performance and durability. This unique formula contains some Isopropyl Alcohol and other special ingredients, but it does not contain any silicone. The formula is body shop safe, even on fresh paint. You will enjoy its pleasant fresh scent along with its anti-static properties that help repel dust.

- Easily removes oils that are hidden to the naked eye.
- Helps any sealant, coating or wax bond to the paint better.
- Spray it on and wipe it away with a microfiber towel for a streak free shine.
For use after washing and before applying waxes, sealants, or coatings. Simply spray and wipe. Any oils, grease, residue, etc. will be targeted and removed.

Consumption: 150ml/car
IPA Percentage: >50%
Detail like the pros
We won't lie, we're very picky when it comes to our detailing standards. From a simple wash to a full vehicle film installation, we reach for the products and tools that provide consistently excellent results with ease of use. And that's exactly what you'll find at Urban Werks Detail Shop & Supply - the best and nothing less.