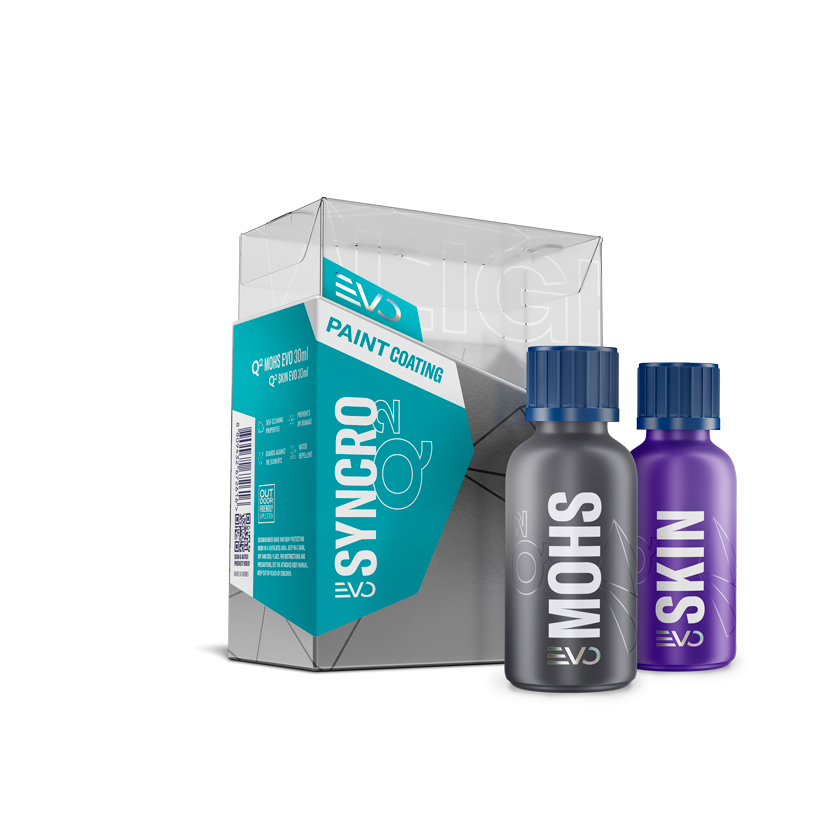 Q² SYNCRO EVO is the most advanced multi-layer ceramic paint coating ever produced by GYEON that is available on the open market. The ceramic coating kit combines the all-new Q² MOHS EVO with an all-new Q² SKIN EVO top coat. This ceramic coating is designed for maximum durability and protection out of the base coatings while delivering incredible gloss and color enhancement out of the topcoat with incredible durability of the self-cleaning and hydrophobic effects.
- The most advanced consumer paint coating available from GYEON.
- Long lasting hydrophobic properties.
- Advanced two-part system.
- Powerful color enhancement and gloss.
Apply Q² SKIN EVO 1 hour after the layer of Q² MOHS EVO. Apply as much of the product as you can as wipe off is simple and smooth.

Box Contains:
- 30mL Q² MOHS EVO
- 30mL Q² Skin EVO
- Q²M Coating Applicator
- Instruction Manual
- Mini Maintenance Booklet
- Door Sticker
- #GYEONIZED Sticker

Consumption: 15-25ml/car
pH Tolerance: 2-11
Durability: up to 50 MONTHS / 50k km
Detail like the pros
We won't lie, we're very picky when it comes to our detailing standards. From a simple wash to a full vehicle film installation, we reach for the products and tools that provide consistently excellent results with ease of use. And that's exactly what you'll find at Urban Werks Detail Shop & Supply - the best and nothing less.