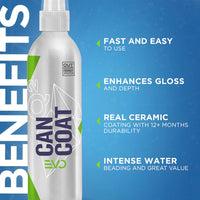 GYEON Q² CANCOAT EVO is a ceramic coating spray designed to be the fastest and most efficient way to install a true SiO2 based protective ceramic coating to your vehicle. Simply spray Q² CANCOAT EVO onto the included microfiber towel, wipe into your paint, and get ready for the pop in gloss. Q² CANCOAT EVO outperforms any wax or sealant and offers real protection from UV and chemical exposure.

- Fast and easy to use.
- Enhances gloss and depth.
- Spray on ceramic coating with 12 months durability.
- Intense water beading and a great value.
400mL bottle with spray top.

Box Contains:
- 1 x Q² CanCoaT EVO
- 3 Sprayheads
- 1 Microfiber

The strength of Q² CANCOAT EVO comes in its ability to be quickly and easily applied to multiple surfaces. Wipe into the surface quickly and remove excess product immediately for a fast and efficient coating application. The coating is not designed to be applied heavily in cross-hatched and overlapping passes.

Consumption: 10-15mL/car
pH Tolerance: 2-11
Durability: up to 12 months/12kkm
Detail like the pros
We won't lie, we're very picky when it comes to our detailing standards. From a simple wash to a full vehicle film installation, we reach for the products and tools that provide consistently excellent results with ease of use. And that's exactly what you'll find at Urban Werks Detail Shop & Supply - the best and nothing less.